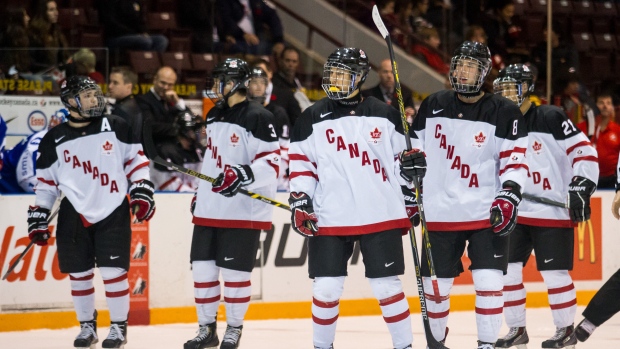 Sixty-six players have been chosen to represent Canada at the 2017 World Under-17 Hockey Challenge, November 5-11 in Dawson Creek and Fort St. John, B.C.
One goaltender, three defencemen and five forwards with BC connections are among the picks. Of these eight, one is currently playing Major Midget, three are playing BCHL with eyes on the NCAA and four are playing in the WHL. All were drafted by WHL teams.
Overall, 23 players from Western Canada were picked, 22 from Ontario, 12 from Quebec, and seven from the Maritimes. Two US born players were also selected.
Here are the players with BC Connections.
Roman Basran (6'1″, 173) of Delta, currently playing for the Okanagan Rockets in the BCMML, is among the six goaltenders. Basran is a third round pick (64th) of the Kelowna Rockets. He played for the Yale Hockey Academy last year, and previously for the Delta Academy in second year bantam, after moving from Seafair Bantam A1.
On defence:
Jacson Alexander (5'9″, 174) of Victoria, playing with the Victoria Grizzlies in the BCHL – a WHL first round pick (SC 2016 -17th). Alexander played first year bantam at Victoria Racquet Club before moving to Shawnigan Lake of the CSSHL for two years. Alexander is committed to University of Denver for 2019-2020.
Bowen Byram (6'0″, 179), a Lethbridge native who played with Yale Academy in CSSHL last year, and currently playing with the WHL Vancouver Giants (1, 3). Byram played two years of bantam with the Lethbridge Golden Hawks before moving to Yale.
Jackson van de Leest (6'6″, 218) from Kelowna, currently playing in the WHL with Calgary Hitmen (1, 16), played with the Okanagan Hockey Academy With Prep last year, after a year with Yale in 2015-2016.
Forwards include:
Dylan Cozens (6'2″, 174), a Whitehorse native, currently with the Lethbridge Hurricanes (1, 19) played second year bantam with Delta Hockey Academy and then a year with Yale Midget Prep (27-30-57).
Sasha Mutala (6′, 189) of Vancouver, currently playing for Tri-City (1, 6), played last year for the Greater Vancouver Canadians in the BCMML (20-43-63). Mutala is a graduate of Burnaby Winter Club, where he played two years on the Bantam A1 championship team.
Massimo Rizzo (5'10", 172) a Burnaby native, playing for the Penticton Vees in the BCHL, played last year for BWC Academy Prep (22-62-84). Rizzo also played with Mutala for two years with the BWC Bantam A1s. He was drafted by Kamloops (1, 15). Rizzo is still considering his options for NCAA/WHL.
Alex Swetlikoff (6'2″, 179), from Kelowna, playing with Vernon Vipers in the BCHL, played Yale Academy bantam and Midget Prep  (19-26-45). Swetlikoff was drafted by Seattle (3, 62) but is currently committed to University of Denver 2020-2021,
Josh Williams (6'1″, 184), a Langley native, playing with the Medicine Hat Tigers (1, 5), is also a CSSHL grad, starting with Delta for first year bantam, and then moving to Yale for E15 and a year of Midget Prep (18-37-55).
The players will be split up into three teams – Canada Black, Canada Red and Canada White when they take on teams from around the world including the Czech Republic, Finland, Russia, Sweden and the United States.
In July, 111 players were invited to a week-long national under-17 development camp before the team was selected.
The players to compete in the tournament were selected by Brad McEwen (Hockey Canada's head scout) in consultation with U17 Hockey Canada Program of Excellence management group lead Steve Staios, along with regional scouts Carl Bouchard, Barclay Branch, Barclay Parneta, Kevin Mitchell and Darrell Woodley.
"There is a strong, talented, and skilled group of players to choose from and we feel the 66 we have selected are a great representation of the depth of Hockey Canada's Program of Excellence," said McEwen. "These young men have demonstrated an ability to learn, grow, and develop while giving Canada the best chance at bringing home gold on Canadian ice."
Notable squad players include Rimouski Oceanic centre Alexis Lafreniere, Tag Bertuzzi (son of former NHLer Todd Bertuzzi) and Kootenay Ice standout Peyton Krebs from Okotoks, Alberta.
The tournament opens Nov. 5 at the Encana Events Centre in an all-Canadian affair as last year's silver-medallist, Team Canada Black, takes on Team Canada White at 2:30 p.m. MT (4:30 p.m. ET).
The opening day concludes with Sweden facing Russia at North Peace Arena in Fort St. John.
TSN and RDS, the official broadcasters for Hockey Canada, will air one semifinal and the bronze- and gold-medal games; please check local listings for details.
TEAM CANADA – WORLD UNDER-17 HOCKEY CHALLENGE ROSTER
| | | | | | | | |
| --- | --- | --- | --- | --- | --- | --- | --- |
| GOAL | | | | | | | |
| Name | S | Ht. | Wt. | Born | Hometown | Club Team | CHL Draft |
| Roman Basran | L | 6'1 | 173 | 7/26/01 | Abbotsford, BC | Okanagan (BCMML) | KEL 2016 (3, 64) |
| Luke Cavallin | R | 6'0″ | 179 | 4/29/01 | Greely, ON | Flint (OHL) | FLI 2017 (2, 28) |
| Tommy Da Silva | L | 6'1″ | 206 | 1/23/01 | La Prairie, QC | Coll. Charles-Lemoyne (LHMAAAQ) | CAP 2017 (2, 36) |
| Taylor Gauthier | R | 6'0 | 189 | 2/15/01 | Calgary, AB | Prince George (WHL) | PG 2016 (1, 10) |
| Jonathan Lemieux | L | 5'11 | 178 | 6/8/01 | Beloeil, QC | Val-d'Or (QMJHL) | VDO 2017 (3, 42) |
| Nolan Maier | L | 5'11" | 168 | 1/10/01 | Yorkton, SK | Yorkton (SJHL) | SAS 2016 (2, 25) |
| | | | | | | | |
| | | | | | | | |
| DEFENCE | | | | | | | |
| Name | S | Ht. | Wt. | Born | Hometown | Club Team | CHL Draft |
| Jacson Alexander | L | 5'9 | 174 | 2/1/01 | Victoria, BC | Victoria (BCHL) | SC 2016 (1, 17) |
| Justin Barron | R | 6'1″ | 186 | 11/15/01 | Halifax, NS | Halifax (QMJHL) | HFX 2017 (1, 13) |
| Jaxon Bellamy | L | 6'3 | 184 | 1/22/01 | Hampton, NB | Moncton (QMJHL) | MON 2017 (1, 16) |
| Evan Brand | L | 6'5 | 189 | 3/14/01 | Scarborough, ON | Kingston (OHL) | KIN 2017 (2, 29) |
| Mitchell Brewer | L | 5'11" | 197 | 3/20/01 | Millgrove, ON | Oshawa (OHL) | OSH 2017 (1, 15) |
| Bowen Byram | L | 6'0″ | 179 | 6/13/01 | Lethbridge, AB | Vancouver (WHL) | VAN 2016 (1, 3) |
| Maxence Guénette | R | 6'0″ | 171 | 4/28/01 | Ancienne-Lorette, QC | Val-d'Or (QMJHL) | VDO 2017 (1, 5) |
| Thomas Harley | L | 6'2″ | 171 | 8/19/01 | Jamesville, N.Y. | Mississauga (OHL) | MIS 2017 (1, 14) |
| Christopher Inniss | R | 5'10" | 173 | 1/22/01 | Longueuil, QC | Rimouski (QMJHL) | RIM 2017 (1, 10) |
| Colton Kammerer | R | 6'0″ | 169 | 10/21/01 | Brooklin, ON | Sarnia (OHL) | SAR 2017 (3, 52) |
| Kaedan Korczak | R | 6'2″ | 182 | 1/29/01 | Yorkton, SK | Kelowna (WHL) | KEL 2016 (1, 11) |
| Noah Laaouan | R | 5'10" | 170 | 3/7/01 | Halifax, NS | Cape Breton (QMJHL) | CAP 2017 (1, 14) |
| Jake Lee | L | 6'1″ | 203 | 7/13/01 | Sherwood Park, AB | Seattle (WHL) | SEA 2016 (1, 18) |
| Christopher Merisier-Ortiz | L | 5'10 | 163 | 1/17/01 | Montreal, QC | Baie-Comeau (QMJHL) | BAC 2017 (1, 7) |
| Luke Reid | R | 5'11" | 181 | 9/26/01 | Warman, SK | Penticton (BCHL) | VIC 2016 (2, 27) |
| Rhett Rhinehart | R | 6'2 | 195 | 11/27/01 | Lloydminster, AB | Prince Albert (WHL) | PA 2016 (1, 13) |
| Matthew Robertson | L | 6'3 | 194 | 3/9/01 | Sherwood Park, AB | Edmonton (WHL) | EDM 2016 (1, 7) |
| Braden Schneider | R | 6'1 | 198 | 9/20/01 | Prince Albert, SK | Brandon (WHL) | BDN 2016 (1, 12) |
| Nathan Staios | L | 5'7 | 164 | 5/17/01 | Oakville, ON | Windsor (OHL) | WSR 2017 (1, 17) |
| Jackson van de Leest | L | 6'6″ | 218 | 6/15/01 | Kelowna, BC | Calgary (WHL) | CGY 2016 (1, 16) |
| Michael Vukojevic | L | 6'2 | 202 | 6/8/01 | Oakville, ON | Green Bay (USHL) | KIT 2017 (2, 33) |
| | | | | | | | |
| | | | | | | | |
| FORWARDS | | | | | | | |
| Name | S | Ht. | Wt. | DOB | Hometown | Club Team | CHL Draft |
| Logan Barlage | L | 6'4″ | 204 | 1/12/01 | Humboldt, SK | Swift Current (WHL) | SC 2016 (1, 4) |
| Alex Beaucage | R | 6'0″ | 179 | 7/25/01 | Trois-Rivières, QC | Rouyn-Noranda (QMJHL) | ROU 2017 (2, 22) |
| Tag Bertuzzi | L | 6'0″ | 193 | 2/18/01 | Birmingham, Mich. | Guelph (OHL) | GUE 2017 (1, 2) |
| Harrison Blaisdell | L | 5'10" | 175 | 3/18/01 | Regina, SK | Chilliwack (BCHL) | VAN 2016 (2, 31) |
| Connor Bouchard | L | 5'6″ | 157 | 3/24/01 | Cochrane, AB | Tri-City (WHL) | TC 2016 (8, 161) |
| Brett Budgell | L | 5'10" | 181 | 6/1/01 | Paradise, NL | Chicago (USHL) | CHA 2017 (2, 25) |
| Joe Carroll | L | 6'2″ | 187 | 2/1/01 | Almonte, ON | Sault Ste. Marie (OHL) | SSM 2017 (4, 78) |
| Graeme Clarke | R | 5'11" | 172 | 4/24/01 | Ottawa, ON | Ottawa (OHL) | OTT 2017 (1, 6) |
| Brandon Coe | R | 6'3″ | 180 | 12/1/01 | Ajax, ON | North Bay (OHL) | NB 2017 (1, 3) |
| Dylan Cozens | R | 6'3″ | 174 | 2/9/01 | Whitehorse, Y.T. | Lethbridge (WHL) | LET 2016 (1, 19) |
| Kirby Dach | R | 6'3″ | 185 | 1/21/01 | Fort SKatchewan, AB | Saskatoon (WHL) | SAS 2016 (1, 2) |
| Hayden Fowler | L | 5'9″ | 173 | 9/24/01 | Kingston, ON | Sault Ste. Marie (OHL) | SSM 2017 (1, 19) |
| Ethan Keppen | L | 6'1″ | 204 | 3/20/01 | Whitby, ON | Flint (OHL) | FLI 2017 (1, 10) |
| Peyton Krebs | L | 5'11" | 173 | 1/26/01 | Okotoks, AB | Kootenay (WHL) | KOO 2016 (1, 1) |
| Alexis Lafrenière | L | 6'0″ | 176 | 10/11/01 | Saint-Eustache, QC | Rimouski (QMJHL) | RIM 2017 (1, 1) |
| Nathan Légaré | R | 5'11" | 195 | 1/11/01 | Saint-Eustache, QC | Baie-Comeau (QMJHL) | BAC 2017 (1, 6) |
| Connor McMichael | L | 5'10" | 167 | 1/15/01 | Ajax, ON | Hamilton (OHL) | HAM 2017 (1, 11) |
| Dawson Mercer | R | 5'11" | 161 | 10/27/01 | Bay Roberts, NL | Drummondville (QMJHL) | DRU 2017 (1, 8) |
| Cody Morgan | R | 5'11" | 186 | 2/1/01 | Maple, ON | Kingston (OHL) | KIN 2017 (1, 12) |
| Blake Murray | L | 6'1″ | 179 | 7/5/01 | Uxbridge, ON | Sudbury (OHL) | SUD 2017 (1, 7) |
| Sasha Mutala | R | 6'1″ | 189 | 5/6/01 | Vancouver, BC | Tri-City (WHL) | TC 2016 (1, 6) |
| Alex Newhook | L | 5'10 | 184 | 1/28/01 | St. John's, NL | Victoria (BCHL) | HFX 2017 (3, 41) |
| Xavier Parent | L | 5'8″ | 167 | 3/23/01 | Blainville, QC | Halifax (QMJHL) | HFX 2017 (1, 4) |
| Bailey Peach | L | 5'8″ | 169 | 3/8/01 | Falmouth, NS | Sherbrooke (QMJHL) | SHE 2017 (1, 11) |
| Jakob Pelletier | L | 5'9 | 157 | 3/7/01 | Quebec City, QC | Moncton (QMJHL) | MON 2017 (1, 3) |
| Nicholas Porco | L | 5'11" | 169 | 3/12/01 | Sault Ste. Marie, ON | Saginaw (OHL) | SAG 2017 (1, 4) |
| Samuel Poulin | L | 6'0″ | 208 | 2/25/01 | Blainville, QC | Sherbrooke (QMJHL) | SHE 2017 (1, 2) |
| Aidan Prueter | L | 5'9 | 168 | 12/21/01 | Komoka, ON | Saginaw (OHL) | SAG 2017 (2, 24) |
| Jamieson Rees | L | 5'10 | 168 | 2/26/01 | Hamilton, ON | Sarnia (OHL) | SAR 2017 (1, 9) |
| Massimo Rizzo | L | 5'10 | 172 | 6/13/01 | Burnaby, BC | Penticton (BCHL) | KAM 2016 (1, 15) |
| Mitchell Russell | R | 5'10 | 186 | 3/6/01 | Barrie, ON | Owen Sound (OHL) | OS 2017 (1, 20) |
| Xavier Simoneau | L | 5'6″ | 174 | 5/19/01 | Saint-André-Avellin, QC | Drummondville (QMJHL) | DRU 2017 (1, 9) |
| Ryan Suzuki | L | 6'0″ | 173 | 5/28/01 | London, ON | Barrie (OHL) | BAR 2017 (1, 1) |
| Alex Swetlikoff | L | 6'2″ | 179 | 7/6/01 | Kelowna, BC | Vernon (BCHL) | SEA 2016 (3, 62) |
| Philip Tomasino | R | 5'11" | 170 | 7/28/01 | Mississauga, ON | Niagara (OHL) | NIA 2017 (1, 5) |
| Brayden Tracey | L | 6'0″ | 163 | 5/28/01 | Calgary, AB | Calgary Northstars (AMHL) | MJ 2016 (1, 21) |
| Keean Washkurak | L | 5'10 | 170 | 8/16/01 | Waterloo, ON | Mississauga (OHL) | MIS 2017 (2, 30) |
| Josh Williams | R | 6'1″ | 184 | 3/8/01 | Langley, BC | Medicine Hat (WHL) | MH 2016 (1, 5) |
| Nick Wong | R | 5'8″ | 165 | 9/17/01 | Orton, ON | Oshawa (OHL) | OSH 2017 (2, 38) |